Product Description
Model NO.: DDGT-008 Style: Loose
Tea
Packaging: Box Tea Soup Color: Clean Green Function: Refreshing Anti Aging Anti Cancer Trademark: WestLake GreenTea Specification: 250gram/bag Type:
Green tea
Specialty: Health Tea Tea Color: Green Color Tea Taste: Clean Sweet with Distinguished Aroma Lingering Tea Type: Loose Leaves or Gun Powder Transport Package: Plastic Bag Origin: China Zhejiang Province Good Points : 1, Summer
Green Tea
is more competitive in price.
2, This tea only produced in Zhejiang province.
3. Anti aging and anti cancer;
4. refreshing the mind and relieving the fatigue;
5. digesting and reducing the fat;
6. protection of radiation and cancer.
Product Details:

*

Manufacturer

Zhejiang Lishui Deedar Agricultural and Forestry Co.Ltd

*Product name

Euro standard green tea

*Product Decription

Fresh Green Tea---planted in non polluted area.


We are selling now this year's new Green Tea,  it certainly pleases your tongue and feeling with a lingering aroma and sweet bliss . A delightful sensation will be with you a whole day if you drink our longjin green tea.

This kind of local green tea is planted only in Zhejiang province for thousands of years, with tight and thin leaves. It is famous for its special fragnance and resweet feeling after drinking it.

We pick tea leaves with one bud two tender leaves, each leaves fresh and strong with white feather on leaves back, then make our green tea 100% manually to keep 100% tea's natural taste and fragnance and nourshiment.

 

*Specialty

Tea grows up in high mountain area with clouds floating around mountain , and mountain fountain water irrigating , so tea leaves grow thick and strong with white feather on back side of leaves.

*Process

Process: fresh tea leaves--drying--making with heating----final drying )---finished tea

*Function

Good points of green tea to your health:





1, Green tea is made from unfermented leaves and reportedly contains the highest concentration of powerful antioxidants called polyphenols. Antioxidants are substances that fight free radicals, damaging compounds in the body that change cells, damage DNA, and even cause cell death. Many scientists believe that free radicals contribute to the aging process, as well as the development of a number of health problems, including cancer and heart disease. Antioxidants, such as polyphenols in green tea, can neutralize free radicals and may reduce or even help prevent some of the damage they cause.



2,

Population-based studies indicate that the antioxidant properties of green tea may help prevent atherosclerosis, particularly coronary artery disease and so on.


 


HOw to  Chinese tea:


1, Take out glass cup.

2, Warm your glass cup first with hot water.

3, Put 5 to 10 grams tea leaves in your tea pot, better to use glass cup without cover.

4, Put 3/1 cup water into cup.The wait for about 2 or 3 minuntes.
 

5, Then put hot water(about 85 degree) to cup full cup.

since green tea leaves are very tender , if water too much high temperature , it will cause immediate release of tannis resulting in a bitter brew.
 

3, It is better to add water in a high position from the tea pot. then take tea soon, do not cover the cup in green tea , otherwise tea will better yellow color, and please take tea as soon as possible, Other wise tea will be bitter and yellow color.

Some tips if you drink green tea in chinese way:
1, If you take good quality green tea in chiese way, it is better not add sugar. since surgar will confuse the pure tea's franace and also tea's natural sweet taste
2, Please drink the tea as soon you as you make the tea, if put green tea leaves inside water too long time, bitter tastes will come out.
3, Green tea make you refreshing with coffine , so it is better to take in the morning if you not have very good sleeping habit.
4, Green tea also contains alkaloids including , theobromine, and theophylline. They provide green tea's stimulant effects. L-theanine, an amino acid compound found in green tea, has been studied for its calming effects on the nervous system.

5, If it is possible, please take green tea with lemon together, then more Vitamin C will come out.
 

*Certification

FDA,HACCP,IMO,ISO,NOP,QS

*Payment Terms

T/T,Western Union,MoneyGram,Paypal

Packing & Shipping:

Aluminium bag/Paper box/Tins: :1-50kg,---door to door courier post servicce,DHL,EMS

Bulk Carton,51-100kg,---discount DHL service;Palletized carton,151kg-more:LCL by sea,cheap.

Delivery:

*Samples delivery time is 3-5 days. Mass order delivery time is within 20 days upon confirmation.

1.Sea shippment.

2.Air shippment is available, suggesting for urgent order between 20kg to 100kg.

3.Courier shipping by EMS,DHL,FEDEX,CHINA POST,TNT,UPS for small orders below 50kg.
Zhejiang Agricultural and Forestry Co. Ltd is a agriculture company specailized in tea and high moutain food for over 20 years. Our factory is located in Zhejiang Lishui area , this area is the most famous place in china for the beautiful mountains without   polluted both in air and water and land.
For 1700  years , tea has being planted in those rich mountains with clouds floating over and clean fountain giving irrigation.  During the long history,   there are a few of   teas to be  instructed as imperial family tea  only such as Huiming Tea, Dragon Fountain Imperial Tea, Suicang Dew Green tea and so on. Of which Huiming tea was prized as golden Prize in 1915 in Balama International Expro. 
At present, about 450000acres of mountain areas are planted with all kinds of tea, annual tea output is about 650000 tons in our area and those tea are being sold to all over china and all over the world.  .
Our company owns our own tea mountain area about 990000 square meters, the mountain sea level is from 800meter to 1300 meter high  far away from industrial area. Among the high mountain and deep valley, tea plants bathed in clouds and twilight,and irrigated by natural mountain spring, so our tea buds are tender and thick and leaves are fresh and strong full of flavor. Plus our special tea making technology over 20 years, so our tea smells special fragrant and taste fresh and clean and have a feeling of happiness after drinking.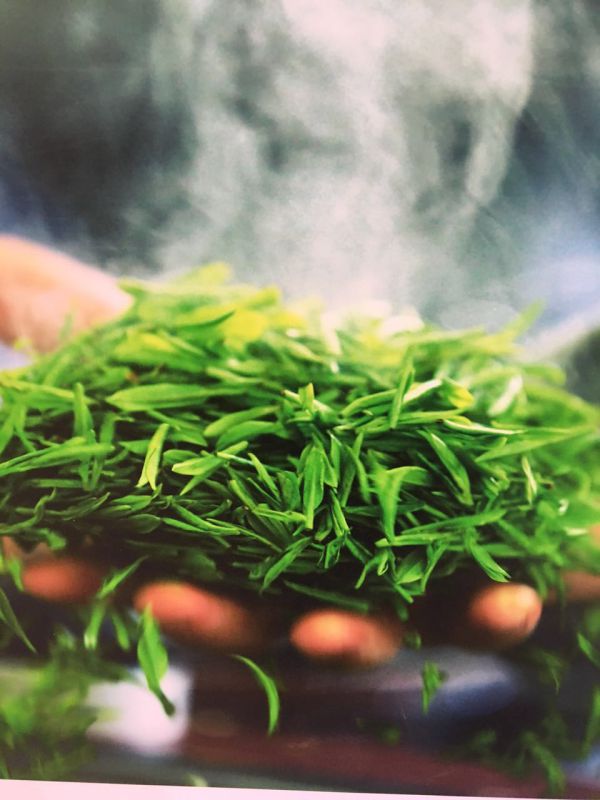 Contact us if you need more details on Summer Green Tea. We are ready to answer your questions on packaging, logistics, certification or any other aspects about Organic Green Tea、
Longjing Tea
. If these products fail to match your need, please contact us and we would like to provide relevant information.